Posted by Mary Jaeger on 12th Jul 2016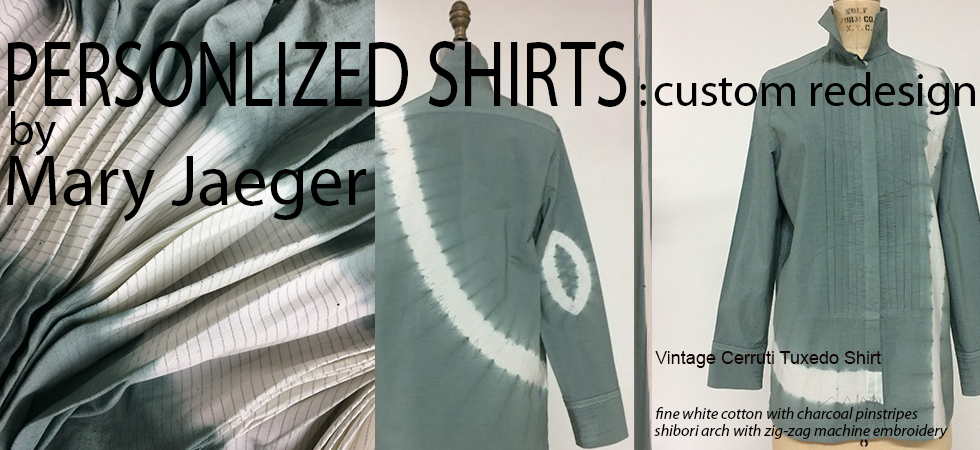 My love of personalized shirts continues.
As I reflect, I believe this fondness for edgy shirts stems from when I was a fourth grader in public school, required to wear a skirt or dress to school every day. My skirts of choice were classic wool, box pleat silhouettes in dark navy, grey or red with one button at the waistband. They did not have pockets or other handy, utilitarian features. The hemlines grazed my knees in early September, but were a bit more flirtatious by March, when they were boxed in mothballs Easter Sunday until fall. I wore those skirts like a uniform, properly accessorized with tights or cable knit knee socks and diligently polished tie shoes (one pair needed to last the entire school year). Once my kindergarten pixie grew out, I sported long carefully braided pigtails until I got a chic layered cut inspired by London's it girl Mary Quant when I was sixteen. Was the street girl in me unknowingly suppressed? I was clueless, minus one small lashing out. And that was robbing my older brother's moderately worn cotton paisley and baby corduroy printed shirts. I would steal them out-right from the basement laundry room. And quietly, with great concentration, make calculated snips with sewing sheers, add well-crafted stitches aided by my Bernina, dip portions multiple times in rainbow colors of Rit Dye heated on the kitchen stove, resulting in garments with my personal stamp.
I thoughtfully styled my personalized shirts as art, casually worn over the prim waistbands and plain canvas of the pleated skirts.
Those naïve experiences galvanized by my ten year old hands have percolated slowly, and now, decades later, they are a riotous creative force that continues to drive and excite me! Each day I look at the plethora of materials (carefully curated) in my atelier and cannot wait to dig in and experiment with my ongoing passion for pattern, texture and color.
I will be sharing my excitement of personalized shirts in a series of workshops in my atelier. Take a look in your closet and pick a shirt you would like to personalize – oversized/fitted/solid/striped/printed/long sleeves/short sleeves/tuxedo/ruffled/plain - best if it is a natural fiber (preferably cotton, but silk or wool work also). Bring the shirt, yours or one consensually pinched, along with a vision, and join me.
PERSONALIZED SHIRT: WORKSHOPS at MARY'S ATELIER
Channel your inner Mari Kondo, my favorite Japanese Master of Clutter. Open your closet and select a cotton shirt that really suited you because the silhouette, size and color complimented your lifestyle. Now, that garment seeks a higher vibration. Bring it to my atelier and we'll give it a creative make-over by cutting, slashing, stitching, dyeing and adding additional embellishments.
We will incorporate concepts of sustainability, upcycling, recycling and happiness into our artistic endeavors!
Come for one or all sessions depending on the complexity of the personalized shirt redesign you envision (bring your shirt, additional design materials are included in the fee). Sessions are suitable for all skill levels and ages. If you prefer using your own sewing kit (needles and tools) or have materials you would like to repurpose, please bring them. Basic supplies are available to use in the atelier.
Session 1: Wednesday, August 17 6-9 PM $75
Session 2: Thursday, August 18 6-9 PM $75
Session 3: Monday, August 22 6-9 PM $75
Call or text Mary to register: 917-416-2686 (mobile) or sign-up online!
Looking forward to creative brain-storming with YOU!