Posted by Mary Jaeger on 28th Mar 2016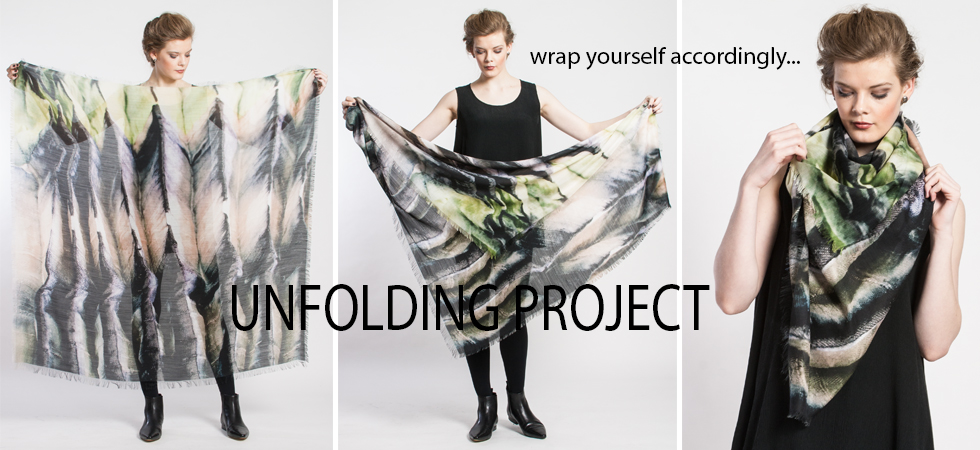 My iPhone is always at hand. Sometimes a curse, but the camera is a blessing. I love capturing the various phases of the dyeing process in my atelier; it is a dynamic metamorphosis at each stage. Inspired by this transformation - the unwrapping of cords after dyeing the ACCORDION SCARF – I immortalize these unique images and movement as the textile unfolds and springs. Thus a supergraphic details the ACCORDION dyeing process and lives on as digital art.
Is it moving or still? Three dimensional or flat? Silent or rustling?
Images transform the lightweight challis and chiffon fabrics, inviting one to touch them. The deconstructed fringed edges tickle your skin while your gaze unscrambles forms. Surely the surface is raised; not pressed or steamed after dyeing. But like touching the luminous canvas of a Georgia O'Keeffe New Mexican landscape or a photograph of Aspen's majestic mountains, it is flat. The illusions are shattered as the sublime colors and textures drape with a barely audible whishing sound.
Lightweight for the temperamental spring, as the warmth of the sunny sky belies the crisp breeze, the original silk dupioni ACCORDION SCARF is easily compressed, then expands loosely around your shoulders like a sensuous soft sculpture, but the illusionary UNFOLDING PROJECT wraps you like a whisper and poses questions like an oversized Escher staircase.
This group of six scarves initiate the UNFOLDING PROJECT.