Posted by Mary Jaeger on 11th Feb 2016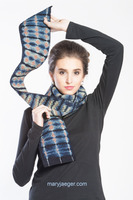 With the winding crescendo of New York's fashion industry getting ready to hit the runways with their fall 2016 line-up, there is a buzz in the air about gender bending apparel and accessories. From my second floor SoHo atelier, I am keeping pace with an eye toward innovation, couture construction and textile dyeing techniques. With my arsenal of materials, ideas and sketches, crunch time is here and I am in the trenches working layers of rich and soft indigo colors, tactile textures and easy-to-wear accessories.
I will be debuting my newest collection at the juried American Craft Council Baltimore Show February 17 through 21. It is an honor to be amongst the artists selected to exhibit and I look forward to stimulating conversations and a lot of fun interacting with ACC supporters and attendees.
What is new? My collection of QUILTED TIGER SCARVES, slowly drying on my rack today. I named this resist dyed pattern TIGER SHIBORI. It is a studied, random-feeling band of lines with graduated tones of blues ranging from serene to deep indigo. I perfected the folding method for a range of short and long sleeve t-shirts (sized for both women and men), this is a variation on that form of fabric manipulation.
Inspired by the Quilted Arch Coats and Sleeveless Jackets in my collection, the scarves are cut from the selvages after the coats are laid out and cut. The widths range from narrow (6") to wider shawl-type pieces (25").
The kantha fabric is imported from India. Two layers of cotton lawn are separated by a thin layer of cotton batting and bound using hand-sewn running stitches in a 1" chevron pattern. The fabric is cut and the edges are bound with bias cut bands of stripe Italian shirting cottons. As the fabric is pleated, it really has a mind of its own and wants to spring flat. It requires tightly managed, even pressing and smoothing with strong fingers that caress each fold and hold it in place before a cord cinches it.
The cotton scarves can be worn wrapped several times around your neck, or simply folded in a slouchy manner to create a shawl collar and left long. They have utilitarian pockets on each end so they you can simply carry your phone, sunglasses and a love note – basic essentials. Genderless, they layer easily with a denim jacket or wooly sweater as well as with a streamlined dress or sport coat. When I pull out my antique blue and white Japanese tea cups, I want to lay one as a runner down the center of my table to compliment the subtle folkcraft ambiance.
QUILTED TIGER SCARVES are keepers, like the coats. They fold flat for storage and can be hand washed and reshaped in a hot dryer. With a nod to Japanese boro, these textiles need to be worn, mended, patched (bring them back to me and I will attend to this character addition) and passed down to future generations. Mari Kondo (The Magic of Tidying Up, Spark Joy) I'm sure would agree.
Come to Baltimore to see me at the American Craft Show. Send me an email if you would like a complimentary ticket for the event.
ACC BALTIMORE SHOW DATES and HOURS:
Baltimore Convention Center, Pratt Street, Baltimore, Maryland booth #3502
Wednesday-Thursday, Feb 17-18: 10 a.m.–6 p.m. (wholesale)
Friday, Feb. 19: 10 a.m.–8 p.m.
Saturday, Feb. 20: 10 a.m.–6 p.m.
Sunday, Feb. 21: 11 a.m.–5 p.m.